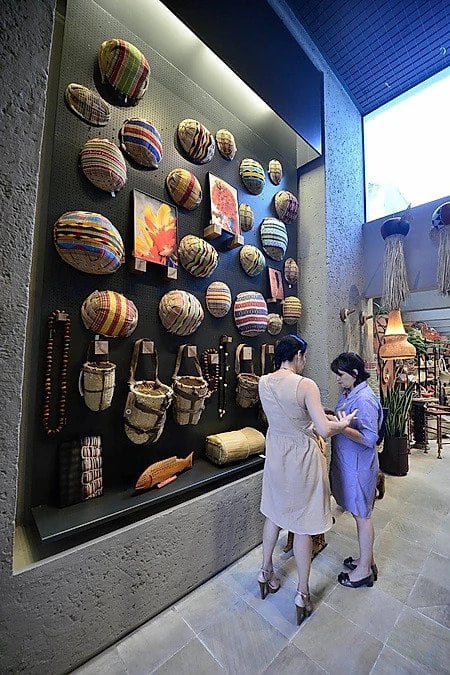 Over the past few years I have realized that the more we find meaning in the we do, the more we find wonderful people along the way who share with us the same dreams and ideals.
One of those special moments, for which I will always be grateful was with Simone Quintas, who after less than a minute talking with me already invited me to participate in a chat about design and crafts in an event of Brazil SA. The fact that a person with her knowledge and whom I also admired professionally believes that much in my work gave me confidence, which was very important at the beginning of my journey.
Every time we met her words were always encouraging and full of sincerity (one of her many qualities), giving me strength to continue my work even with the mishaps of life.
Last April I met Simone in front of the amazing store Dpot Objeto, she was arriving to listen to a chat with Baba Vacaro and the artists Kananri Kuikuro and Mayawari Mehinaku, authors of several pieces presented in the book Bancos indígenas brasileiros about Brazilian Indigenous benchs, from BEĨ Publisher (a really beautiful book). She was still on the sidewalk when she invited me to participate in what would be the Tiradentes Creative Week, a project she created and brought to life alongside Valmiro Junior, another incredible encounter that life has made possible. As she did to me at first, I didn't wait for hear to finish talking and already said: YES! Of course I accept your invitation! After all, I didn't need to listen to her because I was sure it would be something cool and that would make sense to me, as my work always did for her.
It was the beginning of a great friendship and many more that this encounter brought me. I participated in the first LAB Tiradentes, where designers and artisans work, talk, exchange ideas and stories, laugh and eat (very well!) with the intention of creating pieces that shows the richness of Brazilian craftsmanship. I worked alongside designers such as Paulo Alves, Daniela Karam, Guilherme Leite Ribeiro and André Bastos, (from Estúdio Nada se Leva), and incredible artisans such as Expedito Jonas de Jesus (soapstone), Rondinely Santos (wood carving), Wagner Trindade (brass), D. Maria (embroidery) and D. Lilia (crepe paper).
I felt like part of a large family that loves what it does and is always open to listening and sharing. After each dive I felt richer and more complete. I think that's it, every encounter in this life enriches us a little more, it's gifts that we receive that leave a little of itself and take a little of us.
*** And with all these stories to tell can you imagine that we don't have a photo together? Incredible, isn't it?! So I thank to BEI Editora who, unknowingly, registered the moment of the invitation for the Tiradentes Creative Week :)