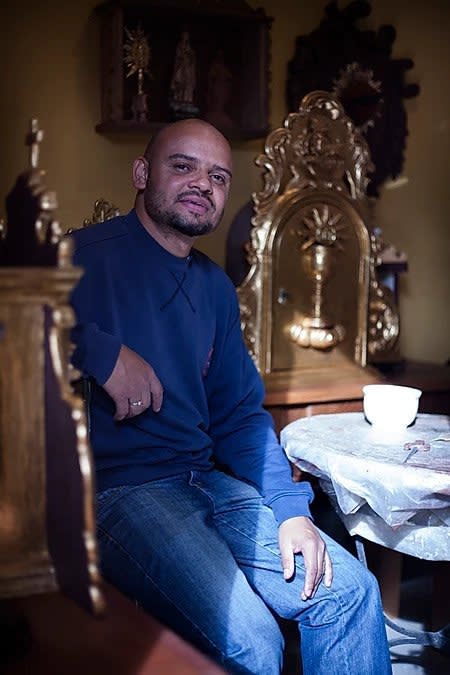 Rondinelly Santos, (photo by João Bertholini), better known as Nelinho, transforms the wood into art through his hands. Using gouges and chisels creates scrolls, vines of acanthus leaves and flower wreaths with an ease that make us lose our breath. I had the opportunity to meet him during the immersions of the FIRST CREATIVE WEEK OF TIRADENTES (Minas Gerais, 2017), and I could not let him go anymore!
Watching him work is like embarking on a journey back in time, back to the second half of the eighteenth century when the Rococo style came from Europe and brought with it more light and lightness, referring to the idea of ​​the joy of living, characteristics that appear in the softness and delicacy of Nelinho's hands carving the wood.
I was greeted with a shy smile and a sweet look, and I was delighted from the beginning with the simplicity and passion with which he described his craft and drew, with firm gesture, arabesques where we find no beginning or end.
His timidity gradually gave way to a self-confidence of who knows what he does and was already born with this gift, and, among his various requests for sacred art works, he made room for the new. When I realized he had already carved the Serra de São José mountains, not only its outline, but its relief and the paths of the messengers of old times. The result was a work totally different from what he was used to, but done with the same sensibility. And it was this sensibility that I tried to emphasize in Rococo's Dresser, which will be presented, as a preview of the Artisans Collection, during SP-Arte 2018.
In the dresser, Rondinelly's fluid design came to life through the notch and passed through all the drawers uniting them sublty, as did our passage through the Creative Week of Tiradentes.