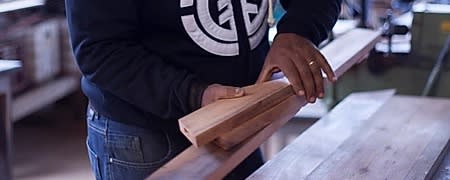 Waguinho, Wagner Trindade's son, is one of the most intense people I've ever met. Intense in a good way, his anxiety comes from the will to learn and seize everything that is possible. It was so during the immersions of the 1st Creative Week of Tiradentes in 2017, when I met him, and it will be like this forever, I think. Every time I meet him he is waiting for me full of ideas and pieces to show, to exchange, to share.
Impossible to get in and out fast, from his workshop or his home, where he always receive us with delicious coffee, cakes, juices and cheese breads made with love and care by Claudinéia, his wife and one of the most faithful companion I've ever had the pleasure of meeting. When we go to visit him, anywhere, we must go with a lot of time, at least three hours, and yet we leave with the impression that there is still much more to talk about, such is his excitement and the desire to tread new paths.
His joy, dedication and commitment spreads through his employees in the workshop, as he teaches there much more than a job, he demonstrates in his attitudes the importance of loving what we do and always care for our family and friends. We are always thrilled to hear him tell not only the story of his father, who taught him the craft, but also the boys he brought in when they are really young to learn a profession and find meaning in life, since sometimes living in the countryside does not provide many options for those who are young.
Tireless in his quest for self-improvement, dedicated to everything he does, a real human-struggler, there are innumerable adjectives that come to mind when I think of him, but one of them shouts louder: friend, certainly for my whole life!
Entering his world is the same as penetrate his soul. His story is written there. Every wall, every mold, every tool, every piece finished or unfinished, endows itself with his strength and emotion. This is exactly what I felt when I walked into his workshop and came across the light and shadow effect generated on the wall by a small, lit Moroccan lamp. His incessant search to meet his true self is what I tried to translate when creating the Reliquary Mirror, which when open reflects the image of what should be our most precious asset.