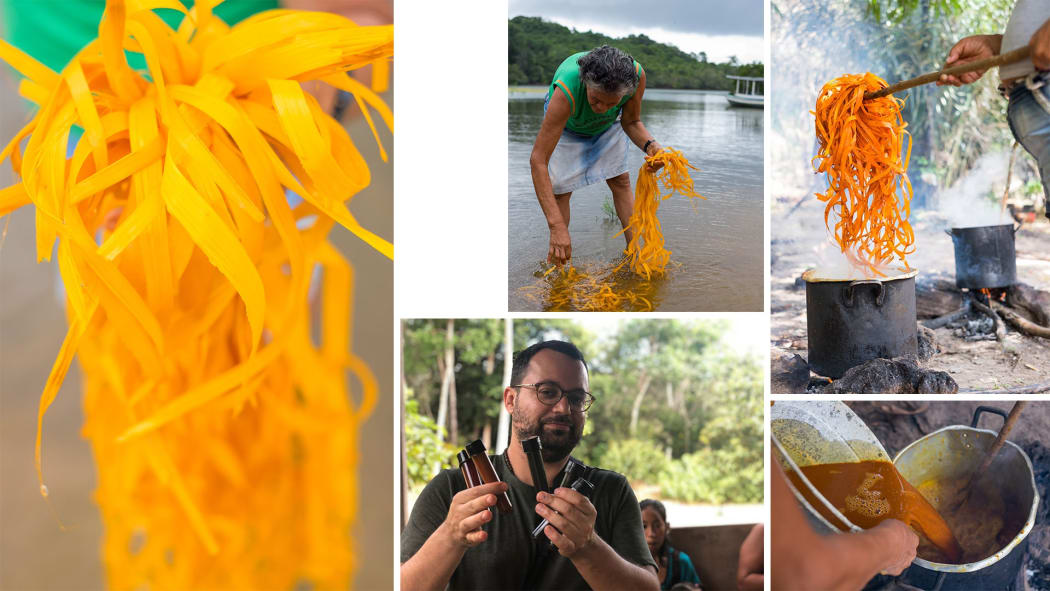 Some time ago I told you how Marcelo Oséas and I met, at that time I
already admired him as a professional and as a person, but today I know
that I had no idea of the potential contained behind that pair of glasses.
We divided the studio work space so it was impossible not to closely
follow his research on traditional cultures, processes, techniques and
materials, and it was even more impossible not to be enchanted with the
way he understands and presents, through photography, his vision about
the processes whether or not these cultural elements are assimilated by
consumer societies.
I soon invited him to make an exhibition in the studio and to my joy he
accepted immediately despite the initial surprise.
Another coincidence in our stories, even before he decided to move his
studio to the same space as mine, we both already wanted to go to Pará
to develop our new works. As I am developing the next collection, Alma-
Raiz, which will be released in August, with the community of Urucurueá,
and there we worked with natural dyeing process of the tucumã straw, the
place ended up being obligatory stop for Marcelo, who was researching
the natural pigments for his photographic work. I had the great pleasure
of introducing him to the community and he left there with tubes filled with
pigments like mangarataia and crajiru, to use in the pigmentation process
of the images that he presents at the exhibition "A Chronic Munduruku",
with opening scheduled for the 13th of April.
In this exhibition, Marcelo, besides giving us breathtaking images, made
during his immersion in the Munduruku village, located in the Lower
Tapajós, makes us understand a little better the culture of this people and
question the way the consumer society advances on the traditional
communities. To conclude, he invites us to participate in this reality by
contributing to the construction of the Munduruku School of Culture,
Forest and Medicine, to help preserve the knowledge of this ethnic group
and facilitating the transmission of it to future generations and for those
who have interest in learn.
In each step that he gives, his dedication and search for the best way to
use his images to pass to the public all the wonderful things that he kepts
within him.